Press Release – Sept 16, 2015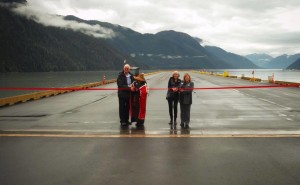 First Commercial Wharf on BC Coast in 30 Years
Stewart, British Columbia – September 16, 2015 – Today marks the Grand Opening of Stewart World Port, the first commercial wharf built on the coast of British Columbia in over thirty years.
"We are expecting over 300 people at the event," said Ted Pickell, President, CEO, and owner. "We are very proud of our accomplishment and will be active in the community for decades to come.  We have also just been awarded our first multi-ship inbound cargo contract."
Stewart World Port is the only commercial break bulk wharf on the BC coast north of Squamish.  Located at the end of the Portland Canal, the multipurpose facility is strategically located in one of the most mineral rich areas of North America, within the aptly named Golden Triangle.
The deep sea wharf is capable of berthing handymax and panamax vessels. Customers include mining, forestry, oil and gas, and project cargoes. Outbound cargoes include bulk mineral concentrates, wood chips and pellets, LNG, and coal. Inbound cargoes include mine resupply, pipe, modules, project supply and equipment, and cement powder. Combined the port has 100 acres of laydown.
Distinguished guests at the opening are many and include The Honourable Judith Guichon, Lieutenant Governor of British Columbia and Parliamentary Secretary Greg Kyllo.  "The opening of the Stewart World Port is an important step in preparing for the unprecedented opportunities ahead for northern communities through natural gas development," said Greg Kyllo, Parliamentary Secretary for the BC Jobs Plan. "The movement of goods at the Stewart World Port will drive future growth that will benefit the District of Stewart and support British Columbia's diverse, strong and growing economy."
The first two phases of construction, representing a $70 million investment, were successfully completed by Arctic Const. Ltd.  Phase III construction, an additional $60 million, is designed by CWA Engineers and includes concentrate sheds, conveying systems, and a bulk shiploader with a load rate of 3,300 tonnes per hour.
As Canada's most northerly ice free port, Stewart has paved access to British Columbia, Alberta, Saskatchewan, and the Yukon. Stewart World Port provides companies with a viable shipping alternative, up to a day and a half advantage to Asian markets over southern ports, favourable climate, low winds, and excellent anchorage.